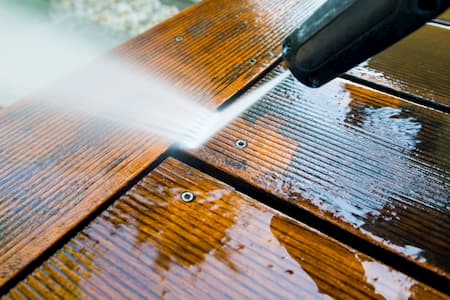 If you want to gain all the benefits that pressure washing will bring your home, contact Streamline Pro-Wash if you are in the Tega Cay area. We guarantee you'll not only be pleased with our friendly and professional technicians and employees, but with the excellent outcome of whatever work we do for your home. Streamline Pro-Wash offers the following services to our Tega Cay customers:
Pressure Washing
Driveway Cleaning
. . . and more
A+ Pressure Washing For Your Home
When your home starts to look dirty, grimy, and not like the beautiful home you know and love, it may be time to look into pressure washing. One place to start your pressure washing journey is the siding of your home. This is often the spot that sees discoloration from a layer of filth. Luckily, our technicians know just how to carefully remove anything that may be marring the side of your home to leave you with an attractive finish every time. Gutter cleaning has never been done better than Streamline Pro-Wash does it. Our inside and outside thorough cleaning will leave your gutter flowing smoothly and looking great. These are just a few of the surfaces that our employees can take care of for your Tega Cay home. Contact us to find out just what improvements we can make to the exterior of your home.
Tega Cay Area's Driveway Cleaning Experts
If you're sick and tired of coming home to a driveway that doesn't reflect the standard you hold for your home, Streamline Pro-Wash can remedy the eyesore. Driveways house cars and cars cause every manner of dirtying, whether it be oil drips, rust marks, or just your everyday grit carried in from the road. While these problems come with the territory, you shouldn't have to put up with the physical detriment it causes to your driveway. When you contact Streamline Pro-Wash for regular driveway cleanings, you can come home to a bright driveway that will wow the neighbors and put a smile on your face.
If the way your driveway looks isn't your primary concern, but the way your driveway is going to last is, an additional advantage to keeping a clean driveway is the added longevity. Streamline Pro-Wash can remove harmful debris that build-up and tear down the integrity of your concrete until you're forced to either repair it or live with the headache of an uneven, damaged driveway. Keep your Tega Cay home's driveway in good condition and contact us to take care of any cleaning needs you may have.