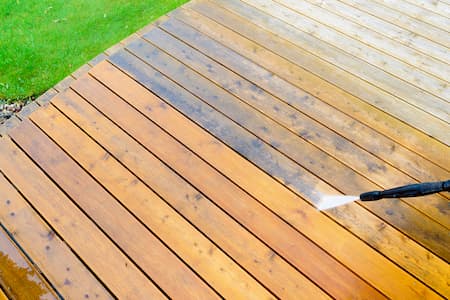 Does your patio look stained and undesirable? If it does, whip it back into shape with a patio cleaning from Streamline Pro-Wash and enjoy spending time on your Charlotte patio again. Our pressure washing specialists are always prepared to supply you with the best experience possible of any other pressure washers in the area due to our professional attitude and high-quality performance. Don't let your dirty patio keep you from enjoying the outdoors, keep your patio clean, and see all the benefits that come with it.
Love Entertaining Again With A Beautiful Space
Patio cleaning is a great way to get around to enjoy your patio again. When your patio becomes dark and dingy, we understand that it's difficult to be able to appreciate the time spent using it. We at Streamline Pro-Wash would like to return your patio to its former glory so you can feel good about using it again. Whether you've been holding off planning that barbeque or you've stopped sitting in your back yard, the condition of your patio shouldn't keep you from making the most of your backyard. Our concrete cleaning professionals can remove staining from mildew, rust from patio furniture, or dirt deposited by shoes or snow. No stain is too tough for us to take a crack at. So, send the invites to your backyard bash and have a cup of tea while enjoying the sunset, Streamline Pro-Wash is here to make your patio transformation a reality.
Give Your Patio the Longevity You Need
Maybe you had your patio installed, or maybe it was a big reason for buying your home. Either way, protecting it so that it can be enjoyed by your family for years to come is most likely important to you. Did you know, though, that if you are regularly getting a patio cleaning, you could be jeopardizing the longevity of your concrete? There are many common pollutants that have inevitably found their way onto your patio that will, over time, deteriorate the integrity of the structure. This could mean that one wrong move, and you'll be looking at a costly repair to the space that is so important to you. Cracks or uneven concrete have no place on a patio as they pose a fall risk. Streamline Pro-Wash can keep your patio cleaned properly with the best patio cleaning service around to avoid any of these complications and make sure that your patio is there for you when you need it.
---