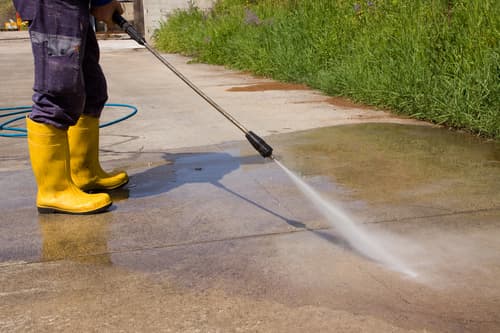 If, when looking at your home, your driveway has become an eyesore to your otherwise beautiful home, it may be time to contact Streamline Pro-Wash for a top-rated driveway cleaning. We are dedicated to providing you with the best experience possible every step of getting your driveway to the way you'd like it. From the first call to the moment we pull away to let your driveway dry, we are committed to providing you with excellency and thoroughness to meet your needs. Reliable pressure washing goes a long way, but we go the extra mile to ensure that you reap every benefit possible from your driveway cleaning.
Love the Way Your Driveway Looks
The most obvious benefit to Streamline Pro-Wash cleaning your driveway is that your home will receive an instant facelift. As dirt and other growth accumulate over time, it may be gradual enough that you don't even realize how different your driveway looks, but once you've experienced a driveway cleaning, you won't want to ever look so dingy again. We facilitate a transformation of your driveway from just a place where your car rests to a stunning focal point and representation of the beauty your home has to offer. Mildew can leave dark stains, cars leave oil drips, and foot traffic drags all kinds of dirt to rest on the surface of your driveway. None of these is any match for the experts in concrete cleaning, though, and we'll have your driveway looking like new before you can blink.
Increase the Health of Your Driveway
You can call our technicians "concrete doctors" because once they complete your driveway cleaning, they will have had a substantial impact on the overall health and lifespan of your driveway. A driveway cleaning does more than just make your concrete look great; it helps your driveway to last longer. The cleaning that Streamline Pro-Wash's team will perform for you will remove all kinds of debris and materials from your driveway that would otherwise stay and begin to deteriorate the condition. Many of the things commonly found clinging to your concrete can seep into the pores, trap moisture, and break down the integrity of your concrete. No homeowner wants to fork over a fortune to have their driveway repaired or replaced when it begins to crack and wear away. That whole headache can be avoided by simply keeping up with routine cleaning provided by a top-notch pressure washing company like Streamline Pro-Wash.
---