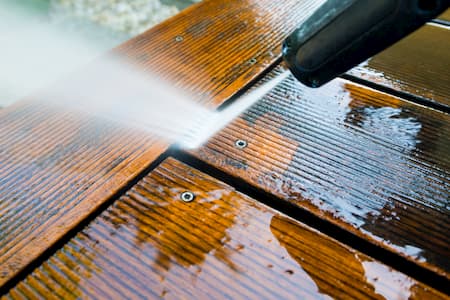 How Often Should I Get My House Washed?
Pressure washing experts generally agree that you should pressure wash at least once a year, however, there may be cases that you would consider pressure washing more frequently. These situations include:
Just exiting a high pollen count season
The end of a heavy rain/snow season
Noticing growth like mildew or mold on exterior surfaces
What's The Difference Between Your Services And Me Just Buying A DIY Pressure Washer?
We recommend leaving it to the pressure washing professionals. Using a pressure washer is a skill and attempting to do your own pressure washing without the proper training could have several negative outcomes, such as:
Damage to any surface you're attempting to clean
Injury to yourself or others
Costly repairs for damaged equipment or surfaces
Time wasted for a lackluster result
Do You Use Any Harsh Chemicals In Your Cleaning Processes?
No. When we employ soft washing, a gentle process for the more delicate portions of your home, we use a simple detergent to loosen pollutants and then are able to lightly wash it away with no negative effects on the surfaces or the areas around them. This process would be used when house washing, deck, and fence cleaning, as well as roof cleaning.