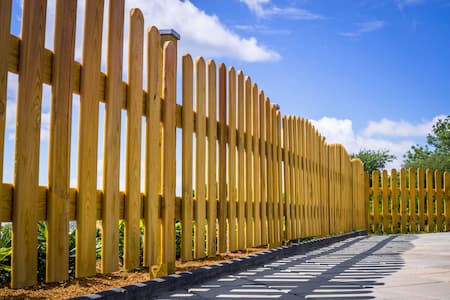 Your Charlotte home probably benefits daily from the inclusion of a deck or fence, so treat them right with a fence or deck restoration from Streamline Pro-Wash, a company that sees the value in quality. Not every company is as knowledgeable about how best to care for wooden surfaces, which is why choosing us to restore your fence or deck is a must.
A deck is often a huge investment in the future of your home, but keeping it clean is no small task. Decks are great places to host gatherings or sit outside and enjoy the weather in your beautiful backyard. That being said, though, the outdoors is often unforgiving to your exterior surfaces and can cause your deck to look worse for wear. Our deck restoration involves a careful clean from our pressure washing specialists that will make your deck look spotless while never jeopardizing the structure itself. Many pressure washing outfits may claim they offer an authentic deck restoration service, but when you see the results, you find that the wood has been gouged by improper cleaning practices, and it looks worse than when they started. Don't let the wrong company be in charge of your deck restoration, contact Streamline Pro-Wash for a deck restoration and house washing and we'll leave you with a deck so clean you'll be jumping to send out the invites to your next gathering.
Fence Restoration Improves The Look & Lifespan Of Your Fence Material
Your deck isn't the only wooden surfaces that can be vastly improved by our cleaning. Your fence is an often ignored structure when it comes to the surfaces that receive cleaning attention, but as it covers so much space and is visible on both sides, we think it deserves a bit more notice. We can properly clean your fence and free you of the ugly green stains that are crawling up from the bottom like some toxic waste. Keeping the surfaces of your home, and especially wooden ones clean, is the best way to ensure that they will last a long time. Algae and mold, which are commonly found clinging to fences, are responsible for trapping a considerable amount of moisture with it. Extended exposure to too much dampness can warp and deteriorate wood, forcing you to repair or replace slats in your fence, a hassle no one wants. Contact Streamline Pressure Washing for a fence cleaning to prevent any negative consequences caused by a dirty fence.
---