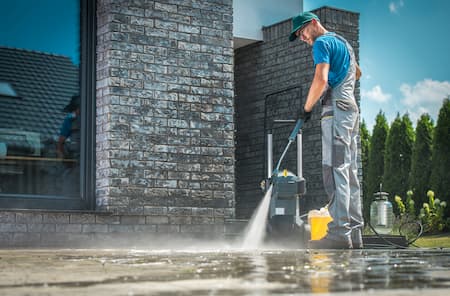 For your Matthews' home's exterior pressure washing servicing, contact Streamline Pro-Wash today. You'll always have a quality experience with the same professional results, no matter the service we perform for you. For any of the following services, Streamline Pro-Wash is the best choice for anyone in the Matthews area:
Pressure Washing
Driveway Cleaning
. . . and more
Matthews' Best in Pressure Washing
Pressure washing is a great way to remove any buildup that has collected on the surfaces around your property. The skilled technicians at Streamline Pro-Wash are able to spray away any ugliness that is clinging to surfaces like the siding of your home. If you've noticed that your siding is looking worse for wear, it can be professionally cleaned by our employees. The gutters of your Matthews home are one spot that can also benefit from expert pressure washing. With our dedication to an "inside and out" method of cleaning, you'll see increased water redirection, as well as increased appearance.
Driveway Cleaning That Will Make a Difference
We can clean a variety of concrete surfaces surrounding your property, but the one that probably comes to mind first is your driveway. It's not hard to understand why the driveway, the surface that sees the heaviest traffic, is usually the most in need of our help. Cars are notorious mess makers, from oil drips to rust spots to just dragging in grime from their daily travels, any surface they rest on is bound to look worse for wear. Your driveway doesn't have to stay looking that way, though. With a comprehensive cleaning from Streamline Pro-Wash, your driveway can once again look like it's never been used.
Most homeowners aren't just looking for good looks, though, which is why it's good to know that cleaning your driveway can also benefit you in more ways. Other Matthew's customers that have had their driveways cleaned by Streamline Pro-Wash can tell you that while removing the buildup on a driveway makes it look wonderful, it also increases the lifespan of the surface by keeping it free of harmful materials. Some materials that are commonly found on your driveways trap moisture and weaken your concrete, meaning you may have to shell out a fortune for repairs before it would be necessary if it had been cleaned routinely. Contacting Streamline Pro-Wash for a driveway cleaning to protect your driveway and keep it looking great.