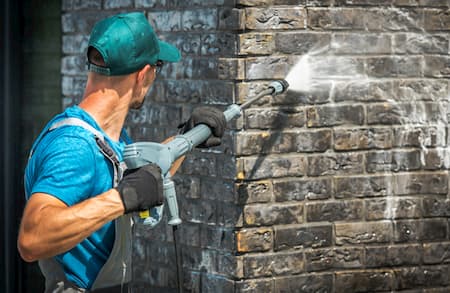 If you have pressure washing needs for the exterior of your Gastonia home, contact Streamline Pro-Wash. We are happy to deliver every customer we serve with the same professional quality as the next. If you need any of the following services performed on your Gastonia home, Streamline Pro-Wash is the place to go:
Pressure Washing
Driveway Cleaning
. . . and more
Streamline Pro-Wash: The Best Pressure Washing in Gastonia
For the surfaces around your home that have become covered in mold and mildew or have simply become discolored from dirt, pressure washing can be the solution to getting your home back into shape. Streamline Pro-Wash's skilled pressure washing technicians can blast away most growth that you find clinging to your surfaces to return them to as they were when they were installed. Dirt discolorations on a house's siding is a common problem that we can take care of. Pressure washing is also a great way to benefit your gutters, too. Because of our dedication to giving your Gastonia gutters a full, inside-and-out treatment, your gutters will experience both increased functionality and boosted appearance.
Top-Rated Driveway Cleaning
Driveways are just one of the many concrete surfaces that we can clean around the exterior of your home. It's understandable that your driveway is often the concrete in most need of cleaning, considering the amount of use it sees. Cars drip oil and leave rust stains, not to mentions the gunk that tires track in from your daily travels. All of these stains can be part of your yesterday, though, as Streamline Pro-Wash can remove practically all debris and get your driveway back to looking as it should.
We know that, like many homeowners, you may be more worried about the condition of your driveway rather than just how it looks. There's no need to worry, though, because as other Gastonia customers will tell you, our driveway cleaning does more than just make your driveway look good, it can add to its integrity. Allowing materials to make a permanent home on your concrete can mean that it is doing harm and damaging the surface. Contacting us for a driveway cleaning is a great way to protect your driveway and avoid unnecessary repair costs.