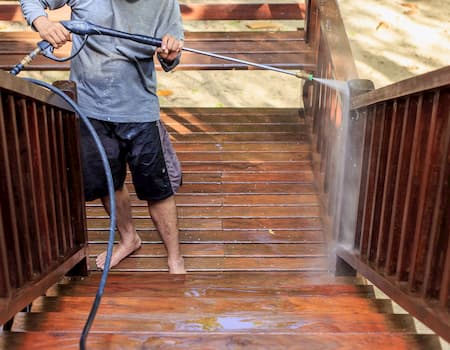 For Concord's best, you need Streamline Pro-Wash, the greatest available in pressure washing. Every house we supply work to will be treated with a professionalism that always ends in quality work being done. For our Concord area customers, we can perform any of the following services for your home:
Pressure Washing
Driveway Cleaning
. . . and more
Concord's Best Pressure Washing
Pressure washing is the way to revitalize surfaces that have been affected by their outdoor standing and collected a layer of ugly looking grime. Has your siding changed color because of the mildew and algae that's made their home on the side of your house? Streamline Pro-Wash's skilled technicians have got it under control, removing any build-up with ease. Your Concord home's gutters will also be positively impacted by our cleaning. We always clean gutters inside and out, which means that not only will all that debris clogging up your gutters be gone, but your gutters will look great after we finish our servicing.
Streamline Pro-Wash Will Make Your Driveway Like New
We are very knowledgeable about the best way to clean concrete, and no surface can benefit more than your driveway. Of all the concrete surfaces around your property, it's probably your driveway that gets the most consistent use. It's no wonder then that it probably looks the dingiest. We can remove anything from oil spots to deposits from your tires, no job is too big. Just because our driveways are useful doesn't mean they shouldn't look good too. Contact Streamline Pro-Wash to see your driveway in a new light.
Our driveway cleaning and care will also help improve the longevity of your driveway. Removing dirt and other moisture trapping debris prevents too much water from getting into your concrete and causing erosion and deterioration. If you are concerned about having to shell out lots for repairs or that your driveway won't last, a good way to take care of that is investing in routine cleanings of your driveway. It's always our pleasure at Streamline Pro-Wash to get contacted by our Concord customers, so whatever the project, big or small, get in touch today so we can get started.