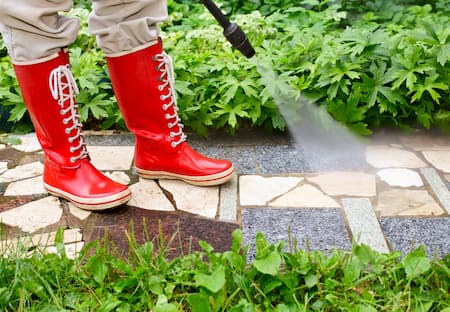 Charlotte residents know to choose Streamline Pro-Wash for their pressure washing needs, and you should too. Whatever job you need to be completed, you can rest assured it will be carried out with professionalism and completed with quality. Streamline Pro-Wash should be your first choice if you need any of the following services performed on your home:
Pressure Washing
Driveway Cleaning
. . . and more
Streamline: The company Behind The Best Pressure Washing in Charlotte
If you've been looking for a solution to your stained and discolored surfaces, pressure washing may be what you need. Pressure washing can restore surfaces to like-new by blasting away any stain-causing materials clinging to it. If you're looking for a way to return your home's siding to the beautiful color you know and love, rather than the dingy version that has replaced it over time, we can supply that for you. Your gutters can also be pressure washed, to bring you more function and increased visual impact to your Charlotte home. Our policy is a full inside and out cleaning, which means you'll be getting the most out of your gutter cleaning service.
Charlotte's Leader in Driveway Cleaning
One of the many concrete surfaces we can offer cleaning for around your Charlotte home is our comprehensive driveway cleaning. Your driveway sees a lot of traffic from both vehicles and feet. Cars are notorious for causing lots of debris on driveways, whether it be oil drips or rust spots. Additionally, tires travel all over town, picking up a lot, just for it to be deposit right on your driveway. Luckily, Streamline Pro-Wash is able to show you excellent results on your driveway as we expertly wash away anything that may be causing your driveway to look anything but its best.
Because we know that looks aren't everything, though, it's also good to know that improved appearance isn't all we can do for your driveway. Our Charlotte customers may be happy to know that removing these materials will actually add years on to your concrete's lifespan. These materials can deteriorate your concrete, forcing you into costly repairs before you should really have to if you had kept it free of contaminants.
Latest Projects